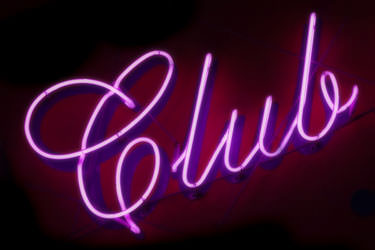 We are back after taking a four month hiatus from the lifestyle. Mrs. D was out of the country travelling for business in places where the lifestyle doesn't really exist at all. In this country, Mrs. D wearing a one piece bathing suit caused eyebrows to raise, let alone her usual sexy attire.
We have been anxious to get back into the mix since she returned. Scanning the possibilities for a Saturday night, we ended up deciding to hit the road and visit a club a couple of hours away from us. It seemed to have the most attractive guest list, plus we knew a few couples attending.
We packed our standard swinger kit, which we have decided we just need to keep permanently packed to always be ready for a hot time. Our kit includes condoms and lube (of course), a music player for our iPhone, the Swingset card game (great for breaking the ice), and a Feeldo toy for some girl on girl play. Mrs. D also likes to be sure to bring her Playboy t-shirt for after sex lounging!
We headed out to the club, which ended up being not as hot and sexy as expected. The club had lost its liquor license and instead we paid a flat fee of $40 per person for all drinks included. Mrs. D thought that was great–Cosmos and chocolate martinis all night long! The beer drinkers in the room felt it was a steep price, and thus the turnout was much lower than usual.
We met some friendly people but grew concerned that we weren't going to meet anyone who was a great fit with us. But in the end, we found our 5% of the room that fit with our age, looks, and personality, as we usually do. We started the night by talking with a couple that we had messaged and had made plans to meet up at the bar–not a date exclusively, but to have a couple to start things off and see how it went.
She was adorable. Looked like Jennifer Love-Hewitt. He was okay, a bit too "Jersey" for me. But we had fun talking with them. Dancing. Flirting. Kissing. We seemed to hit it off. We flirted with other couples, circled the room, but always returned to Jennifer Love-Hewitt and her husband. It seemed "on" as we say. Then, at about midnight, they said it was time for them to head home. She had her period and they were tired. But they really wanted to meet up with us another time. @#$@#$@#$ Needless to say, I was very frustrated.
If I were to write a "rules of engagement" book for the swinger lifestyle, one rule would be–If you know you aren't willing or able to play that night, please let the other couple know. We had not been trying to make other connections because we were interacting so much with them. Having driven two hours and been out of the game for four months, we were wanting some action. Now maybe they just decided that they weren't that into us. But it didn't seem to be the case after some lovely kisses. These were veteran lifestyle peeps, but not really being thoughtful of others!
Luckily the night was not over, and we ended up dancing with two other couples. Hot, sexy dancing. With lots and lots of kissing, and bumping and grinding. We closed down the bar and invited both couples back to our hotel room. Our den of inequity.
Both couples were newbies and cautious, but we hope we set them at ease. We told them that they could just come and chat. They decided what they wanted to happen. They were in charge. They agreed to follow us up to our room.
The two couples had very different rules. The one couple was very much girl only, but she was hot and very anxious for some fun. Mrs. D helped her to come quickly and she seemed to love that experience. She began pleasuring her husband.
Mrs. D then turned to the other woman, but it was clear that she was a cock girl. So we called over Mr. D and told him to give her all the pleasure that she desired. Her boyfriend was also hoping to fuck, but unfortunately could not perform, even after Mrs D attempted a blow job
Mrs. D found herself in a bit of a dilemma–Keep focusing on the guy? Or hop back into the pile of bodies? The thought popped into her head that she was not responsible for his playtime. Plus too much attention on him wouldn't help the matter. So she hopped over to join with the hot girl and her guy–rubbing her clit while she fucked her husband, kissing her and massaging her tits while she fucked her husband. Hot times.
Eventually Mr. D left his hot lady to come and give Mrs. D what she needed. But you could tell the first guy was frustrated and embarrassed. As newbies, I should have had Mr. D slip him half a Viagra–the medicine of cock champions. Takes the worry out of the evening. Despite my reassurances that it happens all the the time, he was clearly embarrassed. We hope their first experience was a great start. And we definitely hope that the hot blonde couple comes a calling again.