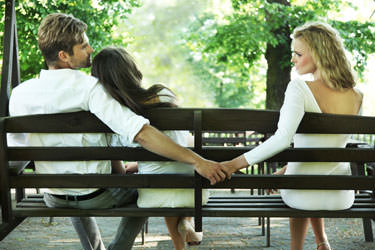 When I set out to write this, the first official post of this blog, I wanted to allow readers a glimpse into who I was and what I was about, which meant actively engaging the part of my brain and psyche that could answer that question – Who is Lexy? How did she get here? Where was she going and was she happy?
I've been non-monogamous all my life, even before I knew what it was. Even when I was married and both my ex-husband and I indulged in lurid affairs that destroyed relationships, including ours. I could blame him for starting the cheating, but that is the easy way out. I had choices, and I made bad ones and none of them brought me closer to happiness. When we separated after 4 ½ years of marriage, I was single and glad to be out of relationships. I didn't understand love. I couldn't relate to how it was portrayed in society, or as I like to think of it – the Standard American Diet.
The married couples I knew played the same games teenagers did in high school, at least in my eyes. I was bored with games. I was bored with expectations. How did people, couples stomach the forever-ness of marriage, the expectations placed on each other, and the unending relentless of monotony they endured? So I shied away, determined not to make the same mistakes I'd made in my first marriage – all in the name of (not being alone) love. Instead, I looked for no-strings-attached nooky were I could find it. And then I met him.
He was married at the time, and this fact left me entirely confused when he started relentlessly pursuing me. I was flattered at the attention and slightly appalled by the fact since he was in a committed relationship. Then he explained to me that he and his wife had an open marriage, and his wife had a regular boyfriend. He, too, was seeing multiple women and he wanted to explore and develop this mutual attraction between us as well. I felt this might be the perfect relationship for me given his attachment via his marriage. I knew I was not looking for a serious relationship. The fact that this man was married and dating other women on top of that gave me the security blanket I needed to allow our natural attraction to lead us where it would. It was the perfect setup for a commitment shy lady. I could eat my cake and have it too.
Little did I know this one relationship would set me on a path of self-discovery and lead me into an exploration of open relationships. Eight years later, I am still with this same wonderful man, he is now divorced and we are both non-monogamous, swinging polyamorists. Our journey from sometime lovers to full-time partners is filled with stories, both amazing and heartbreaking. I intend to share those stories with you here on these pages. Our experiences, some new and some from our past, will allow you to share in the lessons we learned from beginning non-monogamy.
May you find them useful, or at the very least, entertaining.