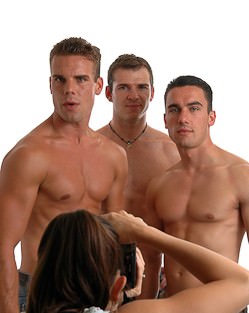 My name is Zoe Hanis and I have been called a unicorn. Though I am married, I have been swinging as a single playing with couples.
A bit ago, Guy told me of a fantasy he has had; to be fucked while fucking someone else. The idea of watching him play with another guy gets my juices flowing. The idea of participating with them…oh my!
So I set about to make this happen. Guy has experience in vetting couples for him and his wife to swing with, but none in finding a single man. Plus he is extraordinarily busy, so was happy to leave the search up to me. It can't be that difficult to find a bi-guy that would be willing to play with us, right?
I started with the want ads: craigslist. There one can usually find whatever it is one needs. Just this last summer, we found a keyboard for my daughter fairly cheap. So I started reading the casual encounters "m4wm", but couldn't find anything that sounded like what we were looking for. We were not looking for "will fuck your wife while you watch" or someone young enough to be my kid (I am 10 years older than Guy). So I set about to write my own ad.
Couple looking for sane bi-guy to play with – mw4m
Hello.
We are looking to play with a bi or bi-curious guy. My guy is interested  in participating in something similar to the picture. [I inserted a picture off of the internet]
We are both health conscious and have been completely tested within the last two months and prefer partners that have been recently (last 6 months) tested. Barriers (such as condoms, dental dams, gloves for internal) are an absolute must.
Also this might be easier if you were listed on Kasidie.com or Okcupid.com as we have profiles on each. If you are on either site, please let me know your alias.
In less than an hour, I had 5 offers and my posting was flagged for removal.
Removal?!  What in the world was wrong with my posting? Craigslist was nice enough to direct me to their list of common reasons for posting removal. I did not miscategorize, solicit illegal activity, mislead, overpost, spam, use personal information, scalp tickets… oh porn. Right the picture I used could definitely be considered porn.
So why is it that the classifieds are full of men posting pictures of their erect cocks or of said cock deep inside a wet pussy, but a picture with three people fucking is taboo.  /deep sigh
Ah well, let's take a look at my five offers. Three of the four sent pictures of their cocks. I suppose that when applying for a job, it is important to put your best attributes on display. Though those were the last three that I talked to. The first applicant was 19, which was an immediate veto. The second raised a red flag when being caught lying about something as simple as his age.  Two were cheating on the wife and the fifth never responded to my reply. So ends my trial of posting on craigslist.
Since then I have answered a couple of ads (m4mw) in the hope that maybe, just maybe there is a sane honest bi-guy willing to play with us. Though somehow I don't think I will find the illusive male unicorn on craigslist, but hey I can get a tanning bed for $800.