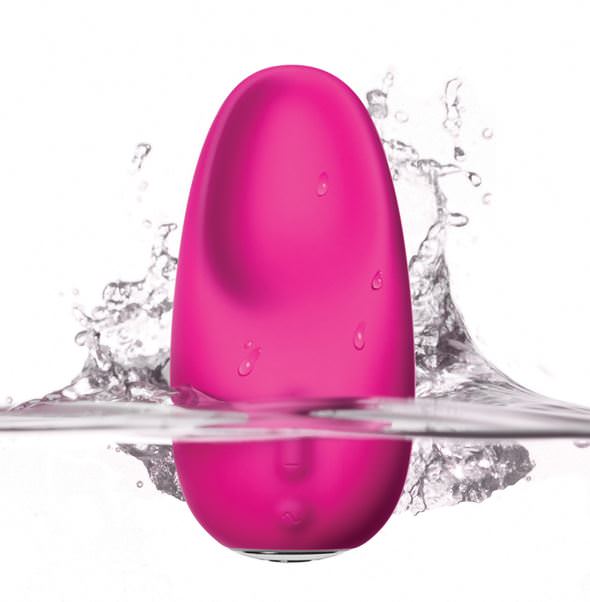 When the package arrived from Jimmyjane, I couldn't wait to tear into it. I am a vibration kind of gal. So when I opened the box and saw the FORM 3, I was excited and couldn't wait to try it; never mind that I still had a half day of work left and a date later night.
Since the FORM 3 has a rechargeable Lithium Polymer battery, I set it up to charge. As it sat on its base, I noticed that it resembled a tongue; if tongues were hot pink and made of silicone. But it was definitely tongue shaped; which made me all the more anxious to get it between my legs.
Once fully charged, I took the vibe off its stand. It is contoured to fit well in my hand; with a flexible pad for my finger to help focus where the vibration should go.
I turned this vibe on. It purred. It was so much quieter than any of the vibrators that I have had so far. I had expected the volume to increase along with the vibration settings, but was pleasantly surprised that it did not. It remained as Jimmyjane claimed "whisper quiet." The FORM 3 has four power levels and four unique vibration modes. The vibration strength was nice and powerful.
Because the FORM 3 is completely waterproof (and submersible), my next stop was the bathtub. Laying back in the warm water, I ran the FORM 3 up and down my pussy. It felt fantastic. By the time I drained the water, I was drained as well. This vibe from Jimmyjane does not disappoint.
Full Disclosure: We did not purchase this product, it was sent to us specifically for review. Our policy is to, regardless of how we acquired a product, review it fairly and openly. No writer for Life On The Swingset will ever deliberately mislead our readers into believing that a product is good because of anything we received from the company. We are open and honest, and cannot be bought or bribed. If we love a product, we'll tell you, if we don't, BELIEVE us, we'll tell you that too. End disclaimer.