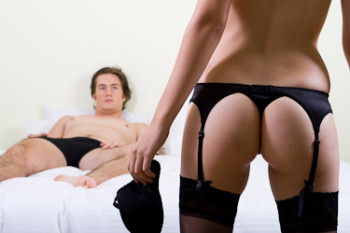 Read Part 1, Part 2, and Part 3
Since I was not present for the hall pass evening with the hot blonde who he has been dreaming about for months, Mr. D. will be guest writing this column. I was away on business. Getting ready for my big speech in fact, and I get the text that he's heading to the hotel. It's "on."
Mr. D. lovingly wrote this account of the evening for me to read on my plane ride home. It was all I could do to not barricade myself in the bathroom to bring myself to orgasm to this amazing story. But I restrained myself.
Mr. D. wrote:
I knocked on the door around 8:25. I was carry our large grey travel bag loaded with Amaretto, Sours, Watermelon Liqueur, and a couple bottles of white and red wine. It as a little tricky sneaking drinks out of the house since my parents seem to live in our kitchen when they visit.

I heard some giggling on the other side of the door because she was doing something silly with the camera at the moment. She opened the door and invited me in and gave me a hug. She had on a robe and said she had something sexy on underneath if I wanted to see.
I said I did indeed and stripped of the robe revealing a very loose leopard print teddy with matching panties. She was in a fuss about the panties because she always wears a thong. I fumbled a bit pulling out bottles of alcohol and setting up the music and was still trying to transition from family world to our other world. She commented about the TXT you sent her saying "have a great night." She seemed happy to get it and wanted some reassurance that you/we were good with this. I said you were and added a little detail about your own hot date (to be discussed in my next blog)
I quickly whipped up a couple cocktails and we toasted to new friends and hopped on the bed for some kissing. She immediately commented (again) on my lips being soft and how much she loved that, just like she did at our house last month. After more kissing and touching, she wanted to get the camera going. She and her husband have a deal that she fucks and records it and they watch it later. I wasn't totally comfortable with this rule, but was willing to role with it to have the fun of the evening.
The camera was on the side of the room propped up a chair with a special mini-tripod with bendable legs. When she got up to turn it on, she commented again about the panties (being uncomfortable) and I immediately offered to remove them, which I did from behind her as she was reaching for the camera. This caress must have been distracting because she couldn't find the record button. I played on the distraction and slid down onto the chair she was standing over and slowly started licking her pussy. She was really struggling to find the record button but eventually did. That was kind of the last time I noticed or thought about the camera, which was a good thing. 
We moved back onto the bed. I kept licking her pussy while she was on her back. I fingered her and she sounded like she came but wasn't as vocal as she would be later in the night. She said, "Your turn" and put me on my back on the bed and slid off my black boxer briefs. She dove in immediately enthusiastically sucking my rock hard cock, stroking it as she was sucking. Eventually she slid her body around so we were in a 69 position and we stayed like that for at least 10 minutes. I told her I needed to fuck her soon and asked if that was okay with her.  
I pulled her off me and went over to the dresser to my black sex bag (condoms and lube). I fortunately put it out when I was fixing the drinks, so the condom was easily reachable. While I was putting it on, she got onto her knees on the bed clearly signaling she wanted this position 1st. I came up behind her and slid in and she let out an audible gasp. We fucked like this for a while and rotated to other positions like her on top, missionary, her legs up around my head. She came often… maybe 8 times with lots of verbal like… "I love your cock… You're so good… You're gonna make me come… I'm coming… Oh wow!"  I came hard while she screamed "Oh yes!!!"
Then I grabbed the Watermelon liqueur and lined up some body shots with her laying on her back… I put a splash on her nipples, in her belly button, on her pussy and worked my way down, sucking the liquor as I went. Later I put her on her stomach and put the liqueur on her shoulder blades, the small of her back, and top of crack, which may it run down over her ass and pussy. I again started at the top and worked my way down and ended by running a long lick from her pussy up across her asshole and up her back as she moaned. She then spent a long period of time doing body shots off my cock.
That was the end of Mr. D's love note to me. But that wasn't all that happened. In addition to Mr. D. giving this sweet young thing the ride of her life. He also helped the husband fulfill a fantasy of walking in on his wife having sex with another man. He listened outside in the door. Then came in with a key. Then left for a while. Then came back in and watched. Then when Mr. D. was done, he fucked his wife so fast and so hard that he came quickly.
After exhausting themselves from fucking, the three of them then decided to head to the hotel bar for drinks. Mr. D. left out the back door of the hotel, drove his car around to the front of the hotel bar, and came in like he was just meeting them for drinks.
While talking, Mr. D. gave the sweet thing a foot massage. It got her so stirred up that they returned to the room again for another round of fun. The husband went home to relieve the sitter. Mr. D got back in his car to drive to the back of the hotel. And she was waiting for him again.
When it was over, I got a text from her on my business trip that said, "OMG seriously? That was amazing. Thank you."