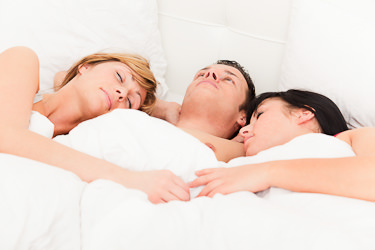 I freely gave Mr. D. a hall pass with the hot blonde with no strings attached. Little did I know that my gift would be returned in an orgasmic fashion. Mr. D. set out to find a couple for me to play with while I was on my business trip.
We set up a "hot date" on our swinger website. It said that I was willing to play with an exceptional couple while traveling on business. But no one exceptional wrote back to us before I left. I boarded my plane discouraged and didn't even pack for a sexy evening.
But by the time I had landed, a text was waiting for me from Mr. D. He had indeed found the perfect couple for me. A hot, muscular man with a vixen of a wife. I got wet as I was walking down the jet way looking at their profile. I was going to have an adventure myself!
Because the wife of the couple was traveling, I was unable to meet with them until the last night of my trip. The wait allowed for a steamy build up of sexy texting, exchanging of photos, and phone conversations with the hot husband. He had me so distracted in my business meetings that I wondered if my colleagues could tell what my little smirk meant as I was typing away.
It just so happened that it was the same night as Mr. D's romp with his hot blonde. Mr. D. was kind enough to write the story of his night for me. So on the plane ride home, I wrote mine (turning the screen down low and making the font really small in hopes that the others in my aisle were not reading along).
Here is my story:
They were waiting for me at the hotel bar. I was wearing my new heels that made me wobbly but I tried to walk sexy as they were watching me the whole way into the room. They quickly rearranged themselves so I could sit between them. We chatted about the hot night that my husband had just finished. And we discussed the importance of a hard cock. He grabbed my hand to feel how hard his was. I scooted my chair more to lean against him and stroked his arm and back. I tried to touch her arms and leg, as much as possible too but it was hard in such a public place. 
She had already ordered a Cosmo and I asked for the same. Before we had finished our second drink, we were ready to go upstairs, so we brought our drinks with us.

Inside the room I immediately started kissing with her. Then he joined in and we had shared three-way kisses. My clothes were pulled off me in a matter if minutes. All that time picking out a new bra earlier that day. Not even seen. I finally pulled her onto the bed. We kissed longer. I sucked her nipples. She sucked my nipples with her deep throated whisper of a voice. We admired each other's hot bodies.
She pulled out his cock almost immediately and started sucking in it. I joined in quickly and we took turns sucking while he moaned loudly. We kissed each other in between taking turns. Then I came up to his face and passionately kissed him while she sucked him some more.
Then he pulled me back and she started to eat my pussy while I sucked his cock. He then held my head in his arms and whispered, "Watch her enjoy your pussy." That I could watch her eat me out. That was incredibly hot.
Then I took my turn with her. First in a sixty-nine position but then I spun her around to have a better angle. I made her moan. Made her come and then she whispered, "I want you to fuck her. She wants that."
Soon he was behind me fucking me doggie style while I continued to suck her. I start moaning and she begins moaning louder and louder.
He spanks me hard several times. I was a naughty girl earlier. Sent him a naked text of me in the dressing room to his work number.
He moans,  "It feels so good in. your pussy."
She gasps, "She's going to make me come."  
"That's so hot," I gasp
He says, "That's it, make her come."
She comes hard and moaning.
Then he flips me on my back and fucks me missionary. Hard. Just how I like it. She kisses me and talks to me while he is fucking me.
"Make her feel good," she says.
"I want you to face him," I told her. Then she sat on my face while he fucked me deep.
They kiss while I moaned underneath her. Amazing.
She pulls off and he fucks me even harder hard. "She wants to come all over your cock," she tells him.
"Rub her clit," he told her. I come three times in shivering orgasms as I moan, "Fuck me with your big cock."
"Get the vibrator on her clit," he tells her and takes a break. She uses the vibrator on me while we kiss passionately. Then he begins fucking his wife while she continues to play with my clit with her toy. Then I get underneath them as they are fucking doggie style. "I can feel my balls slapping against your face. My cock is so hard right now," he says.
I suck her clit while he fucks her harder and harder.

She pulls away and I suck her pussy juice off his cock. I give her pussy some taps with my fingers.
She moans to her husband in a breathy voice "Do you have the toy so you I can fuck her?" She puts on the strap-on while I am sucking him hard and he is really moaning. She starts fucking me and I keep sucking him.
"You're so good with your fucking mouth," he says. "Fuck is my cock hard."
I come hard as she fucks me with the strap-on.
After a short break, I kiss her, cuddling gently in the bed. We are whispering and sucking nipples. He comes behind me and lays down in a spoon fashion. And his cock is in me again. He fucks me while I keep kissing her. He picks up my leg to fuck me harder. I come again.
I get on top of him and ride him a long time. Hard. Fast. She sits on his face and kisses me while I fuck her husband.
She says "He loves being blind like this with a pussy on his face."
I lean back and ride and ride. They encourage me to lean back more. She rubs my clit and tells me how hot I look. I come again as he squeezes my nipples hard.
They fuck more missionary while I kiss her. She comes hardest of the night then. Then he fucks her while squeezing both of us in an embrace and kissing me hard. They fuck more while I take a break.
Then he asks if he can fuck my ass. Yes please. Lube applied everywhere. I tell him to let me control it. He says, "I won't move until you tell me." She kisses my lips and breasts while I slowly let his cock slip deeper and deeper into my ass. And then he fucks me harder and harder.
"Don't hurt her!" She says. No worries there.
I moan and gasp" Oh my God that feels good."
She rubs my clit for a while and I am moaning loudly saying, "Yes. Yes." Then I lay her down and start eating her pussy as he keeps fucking me. He nods with approval. I come again.
Then she says she wants to be fucked in the ass. I work lube into her ass, as he gets ready and help him slide it in. I rub her back, his hot chest, kiss him, watch them fuck. She tells him to come. He comes over her back and my tits.
We lay together spent. Then kiss goodnight and part our separate ways.