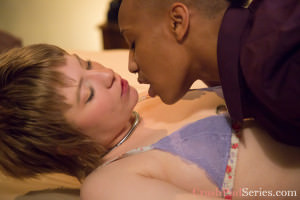 Crash Pad Series episode 149 starts right off with Nikki Darling and Alani Pi kissing passionately. Nikki and Alani continue to kiss as they undress. Nikki's expression then changes to one of mischievous thought. From Alani's expression we can deduce that it's fingers in her pussy first. Nikki moves in with her mouth. Fingers move deep inside while Nikki's tongue works on Alani's clit. It's amazing to watch Alani get so aroused her eyes roll up into her head. This must be really intense but in a good way. They pause for more delicious kisses. After taking her pants off, Nikki lies back while Alani licks and sucks Nikki's nipples. She tenderly covers Nikki's body with kisses. It's now Alani's turn to lick Nikki's pussy. The way Nikki's hips move in response is very sexy.
There is a pause in the action as Nikki puts a condom over a Magic Wand Original. Alani presents a steel butt plug to Nikki who is happy to insert it. Alani gets on her hands and knees so Nikki can put it inside her. "So pretty," says Nikki as she admires the crystal end of the steel Pretty Plug. From this position, Alani still on all fours, Nikki licks Alani's pussy, caresses her clit then uses the Magic Wand on her. I'm impressed that Alani shows Nikki exactly where to press the Magic Wand to get the best response. Nikki tenderly kisses Alani's ass while pressing the Magic Wand on just the right spots. You can tell Nikki is enjoying it as much as Alani does. I really think watching the enjoyment on Nikki's face adds to the sensuality of the scene. Alani rolls over, showing Nikki again the right place to press. "So particular," Nikki teases. This makes them laugh. This is what I love about Crash Pad; there is always an element of relaxed fun. This shows me the performers are genuinely having a good time.
Nikki begins to finger fuck Alani, which prompts a really big reaction. Alani's back arches and her eyes, again, roll up into her head. Nikki teases with licks and flicks of her finger. Nikki ties rope around Alani's wrists then ties them to the headboard above her head. She goes back to work on Alani's pussy with her talented tongue. Nikki hits just the right spot as Alani's response increases. Nikki's fingers keep a fast pace inside Alani along with touches with the Magic Wand. Nikki moves away to return with a strap-on. Is that vibration I hear? The strap-on vibrates! That is so cool!
Alani's feet are up on Nikki's shoulders as Nikki fucks faster and faster. Nikki changes the tempo occasionally to slow and deep. Alani's legs are open and they continue with the fast then slow pace again. Nikki pulls out then unties Alani who shifts to all fours. Nikki enters her from behind then pulls Alani's hair. This is a favorite of mine. Nikki fucks her deep causing a loud, near screaming, response. Just when I think they're done, they take a moment to switch positions again. Nikki kissing up Alani's back, shoulders and neck is very sexy. They share such deep deep kisses.
This time Nikki is on the bottom Alani on top. Alani rides the strap-on while Nikki holds onto the headboard. Squeals of delight and more eye rolling tell us that Alani really likes this position. I like watching them in this position, as there are nice shots of the pretty crystal butt plug while she is riding Nikki's strap-on. Alani continues to grind down on Nikki's cock until she reaches a magnificent orgasm. They cuddle and kiss to end. I found a great mixture of sexy fun in this episode. It was amazing to watch the intensity that Alani feels while building to orgasm. This wasn't a role-play scene, like most of the other episodes I've watched, but found I didn't miss it at all. The straightforward sexiness was more than entertaining and arousing.
Also, I'm pretty sure the strap-on with vibrating balls they use is by New York Toy Collective. The balls are detachable!
Full Disclosure: We did not purchase this product, it was sent to us specifically for review. Our policy is to, regardless of how we acquired a product, review it fairly and openly. No writer for Life On The Swingset will ever deliberately mislead our readers into believing that a product is good because of anything we received from the company. We are open and honest, and cannot be bought or bribed. If we love a product, we'll tell you, if we don't, BELIEVE us, we'll tell you that too. End disclaimer.