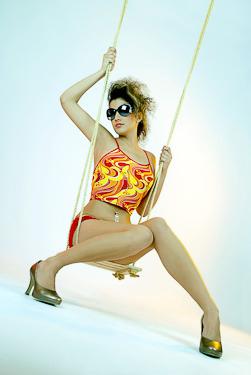 Almost without fail one of the first questions that someone asks me when at a swinger event is something along the lines of "Why did you get involved with swinging?" It's a long story likely to take up more than one blog post so bare with me. But before I get to the story, I have been wondering why the prevalence of the question. Is it just small talk? Is it like the question, "What do you do?" which is used to determine your status and pigeon hole you?
Will variations on the truth lead to different results? When asked "What do you do?" people's eyes started to glaze over when I had the stay-at-home mom answer or they pretended to be interested when I said I made art and wrote or they'd say "Wow, you must be smart" when I give the "I'm an engineer" answer.
What does this question seek to find out? I mean do they really want to know if I am bi like their wife? If so, then why don't they just ask that point blank? Or if they want to know whose idea it was, why don't they ask that? Are they trying to find out what we are willing to do? (full swap, either room, f-f action maybe, no anal, no singles) Are they trying to somehow determine if we are stable or likely to cause the ever feared "drama"?
Anyway, to start this story we have to go back about 18 years. Back when I was a freshman and sophomore in college, I was, what is a nice way to say this, sowing my wild oats. I was a bit promiscuous and for the most part had a great time. When I started dating my virgin husband-to-be, he thought he had struck gold and found a nympho willing to show him the ropes. After a whirlwind of dating and shacking up, we were married within nine months. He is my best friend and it has been a great sixteen years in general. Except when it comes to sex.
Originally we'd have sex 5-6 times a day. I think the record in a twenty four hour period is above twenty. My libido significantly started to decrease after about six months together. We blamed that on starting "the pill." So we only had sex like once a day. Then we got married and I found myself knocked up while on the pill (lesson there for any of you counting on it – someone's got to be that 1% failure). That took my libido down another peg. Maybe only every couple days during pregnancy. Then with buying into the "natural parenting" co-sleeping baby-wearing natural-weaning logic for the next 3+ years, there were hardly any opportunities let alone time plus with complete exhaustion and totally being touched out from nursing, it wasn't long before it was once a week. A few more years of exhaustion from grad school, being depressed, gaining weight, moving ten times, starting a business and eventually I had zero interest and would only be willing to have a rare quickie pretty much when I felt guilty about it.
On a couple occasions, Mr. Scarlet would bring it up that maybe there was something wrong with me and that I should discuss this with a doctor or something. After me totally flipping out on him because there was no way in hell that I was talking about my sex life with a doctor and also what could they do anyway and besides there was nothing wrong with me and he was the one with a fucking problem, he quickly learned not to do that. He also learned not to try to seduce me or even touch me in a friendly way very often or do pretty much anything that hinted of sex. Sounds great, right? I'm not sure why he put up with a fat, depressed, occasionally psycho bitchy wife while never getting laid. My only answer is that sometimes life is like the Pink song True Love.
In retrospect it is clear to me that the problem was not the pill or pregnancy or children or being busy or other life activities. Those are excuses. I firmly believe that my libido disappeared due to trying to live up to society's expectations that when you love someone and get married that you are monogamous. Duh, that is the point of getting married ,right? You are agreeing to love someone forever and ever and ever and also never have sex with anybody else because that's what love is, right?
I have now decided that is utter crap. Personally I think it is a scam by the patriarchy to control women. I also found it helpful to read the book What Do Women Want? Adventures in the Science of Female Desire by Daniel Bergner which among other things discusses that the search for the female Viagra is really a search for a pharmaceutical cure for monogamy.
I am an engineer. If the problem is monogamy then the solution is not a pill. The solution is to practice "not monogamy".
To Be Continued.  Why? Part 2 – How Ms. Scarlet Got Her Groove Back