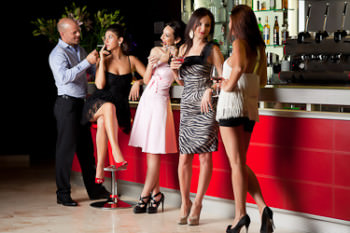 There's always room for more… Here is yet another set of games to get your group mingling and flirting.
These are games we've used for our meet and greet. We meet once a month in a public club where there are a few other patrons. We have between 60 and 120 people in attendance, couples and singles. Everyone is part of our online group. We started playing an ice breaker game because members had commented they were nervous about approaching new people. Quite a few people would come to meet and greet and just sit by themselves at a table. The games are a vehicle to get people up and mingling. They've been very well- received.
My husband and I stand at the door and greet everyone and give them the items for the game. We run the game for the first hour, then we give the prize and enjoy dancing and meeting. The bar owners turn the music down when we play, at our request.
The week of meet and greet I post the game instructions online for the group. Most of what is written below are the instructions I post. I've also included a section about what I do to prepare the game and talk a little about the results.
I make a prize bag with little items related to sex or the holiday we're celebrating. Condoms, cock-rings, Mardi Gras beads, Pop-rocks candy, chocolates, curlystraws. The owner of 3orMore.com was kind enough to send me bracelets, beer cozies, stickers and magnets. Kasidie.com sent me trial membership cards and "swag bags" with condoms. Members of our meet and greet group who sell sex toys have also done prize bags for me.
Grand Slam Orgy
Summertime! What else goes together like baseball and sex? Come out at 8pm for our newest game. Run the bases with new and old friends. I will be handing out game cards from 8-9pm.
Each person will receive a set of 4 cards. All 4 will be the same. The cards are 1st Base, 2nd Base, 3rd Base, Home and Strike Out.
The object of the game is to meet people and "run the bases." When you meet someone, exchange one card with them. When you have 1st, 2nd, 3rd and Home in your hand come to me and enter your name in the drawing to win the prize.
There is a little curve-ball to this game though! If you receive a Strike Out card you must answer the question on the card. Then you can pass it on to the next person you meet.
For the record, 1st Base action is allowable at meet and greet. For all the rest you'll have to head home or to the club!
Preparation:
Print multiple sets of cards that say First Base, Second Base, Third Base and Home. Group and paperclip the same cards together in groups of 4.
Print Strike Out Cards, under the words strike out print a question. Each Strike Out card should have a different question related to sex or swinging. I made 28 different strike out cards. Here are a few examples of fun questions: Tell me how you came up with your profile name? Tell me, friends first or fuck first? Tell me, do you like costumes? Tell me, what is your favorite time of day to have sex? Tell me, what song turns you on? The strike out card are also grouped in sets of 4.
This game worked great to get everyone mingling and the strike out cards were good conversation starters.
Ice Cream, You Scream!
Come out at 8pm for our newest game. Find some sweet matches and learn who the screamers are. We will be handing out game cards from 8-9pm.
Each person will receive a card with an ice cream flavor. Find your match and enter to win our fabulous prize. There is a sticky spot though! If you have a card that says Vanilla, you must exchange the card with anyone you meet and ask them the question on the card. They must take the vanilla card and answer the question. You continue with their card and they can pass the vanilla card to the next person. Vanilla cards can not match up, they just get passed around.
Preparation:
Print cards with ice cream flavors. You should print two sets so there will be a match for each flavor. Put one set in a bag for the girls and one set in a bag for the guys. You will need a lot of different flavors, they can be as off-the-wall as you want.
Print cards that say Vanilla. Under the word vanilla print a question related to sex or swinging. I used the same ones as the Strike Out cards in the game described above. Mix the Vanilla cards in with the flavor cards.
This game was a lot of fun. It was nice to have a game that was not just standard matching. The group enjoyed the twist of the vanilla cards with sexy questions.
Superstitions
Even if it is Friday, the 13th, we still want everyone to get lucky at Meet and Greet! Come out at 8pm for our newest game. I will be handing out game cards from 8-9pm.
Girls will receive a card with the first part of the superstitions (the If statement). Guys will receive a card with the last part of the superstitions (the Then statement).
Your mission is to meet, greet and find your match. When you find your match come to me to enter to win our fabulous prize.
Let's get lucky!
Preparation:
Create and print superstition cards. One card will be the "If statement" the other will be the "Then statement." For example one card will say, "If you eat green M&M's" The other card will say, "You will be horny." We made as many sex and swing related superstitions as possible, but had regular superstitions also.
This game was a lot of fun. We had 69 different superstitions. Many of them were very silly so people had a great time laughing and finding their match.
I hope these games are helpful to you and your group. If you have questions or suggestions for other games feel free to comment below.
If you are interested in running a swinger meet and greet you can check out my other articles: How to Run a Fantastic Swinger Meet and Greet, Swinger Meet and Greet Icebreaker Games and More Swinger Meet and Greet Icebreaker Games