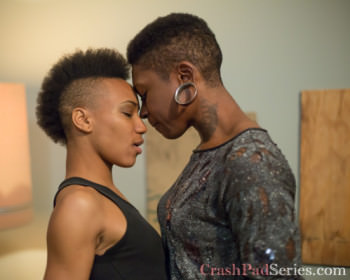 The Crash Pad Series Episode 152 stars Chocolate Chip and Nikki Darling. The episode starts with them returning from a movie. The question is asked, what do they want to do now? Nikki starts to kiss Chocolate Chip. As their kissing continues, Chip picks Nikki up and puts her on the bed. They continue to kiss then Chip takes Nikki's pants off. Chip kisses and slaps Nikki's ass, you can tell they really enjoy her ass. After some touching, kisses and a light smack, Chip tells Nikki they want to tie her to the bedposts. Nikki agrees. Chip puts Nikki's arms through the posts then puts some nice leather cuffs on her. Chip asks, "Feel like being spanked?" The answer is, "Yeah!" Consent is so hot! The spanks start small and light. Chip pulls Nikki's ass up more, they spank her ass and inner thighs then concentrates on one cheek. When Chips asks harder or softer, Nikki asks for harder. Chip prepares for some harder spanks by pulling off Nikki's panties then pulls up her tank.
Chip kisses Nikki's back. Next Chip puts on gloves and takes a dental dam out. More kisses on Nikki's ass cheek while stroking with fingers. Chip put the dam on Nikki's ass for some super sexy analingus. Nikki really enjoys this. With arms wrapped around Nikki's hips, Chip licks in ways that brings lots of moans and sighs from Nikki. Next Chip pulls out a feather teaser. They softly run it over Nikki's back and butt. They tickle Nikki's shoulder blades and under her arm making Nikki giggle and writhe. It's both playful and hot at the same time. After the feather fun, Chip tells Nikki they want to fuck her. Nikki tells them that she'd like that. When Chip undresses, they already have a RodeoH harness on with a dildo attached. They add lube then slowly enters Nikki. I like how Nikki rocks back on the dildo as Chip gets all the way inside. Chip thrusts deep as Nikki continues to rock back onto it. Chip asks Nikki to ride them, unlocks and removes the cuffs.
Chip lays back. I really like how Nikki kisses seductively. First Nikki straddles then puts the dildo inside. She stars slowly rocking on it then picks up speed. The angle where they show Nikki riding from behind is a really hot. While riding Chip, Nikki leans back often putting her hands on Chip's knees. I love Chip's gloved hands on Nikki's hips. Nikki rides fast, back arching. They slow the pace for a bit. Still riding, Nikki leans forward to kiss Chip. She sits back up then rides slowly and deliberately alternating with deep strokes. They pause to kiss. Nikki gets off and starts to suck Chip's cock. Nikki takes it deep, Chip is impressed and so am I. At one point there is a sexy thread of spit from Nikki's mouth to the cock from her fantastic deep throating. Chip really likes it. Next Nikki tells Chip she wants to spank them.
They turn over so Nikki can spank them with her gloved hands. While Nikki spanks, Chip strokes their cock. Nikki alternates soft strokes between smacks. She asks, "What do you want me to do to you?" Chip wants some analingus too. Chip takes off the harness while Nikki gets some lube. Chip gets on their hands and knees. Nikki lays down a dental dam and licks Chip's ass while stroking their pussy. Chip leans back into Nikki as she uses her talented tongue. Nikki offers Chip more stimulation and gets the Magic Wand Original. Nikki continues to lick while using the wand. Chip sits up more, leaning back into it as Nikki licks with great enthusiasm. They are both enjoying it so much it elicits some really sexy noises. Chip peaks, head down enjoying every last moment. In the end, they share some last lovely strokes with hands along with tender hugs and kisses.