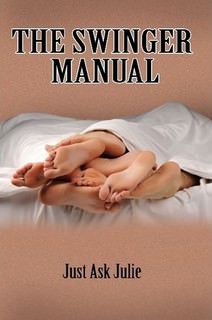 It's not often you come across something that fills exactly the niche you were hoping for, but that's what happened when I read through The Swinger Manual by Just Ask Julie. See, Marilyn and I haven't been swinging as long as a lot of our friends, and one of the reasons we started this podcast is to help "newbies in distress." There aren't a lot of well written positive resources about swinging and open relationships, and certainly aren't many that are easy to find. Back when we started, we found one or two websites that didn't look like they were created in 1997 (the dawn of horrible web design) or have enough spelling errors to make you seriously doubt ones credentials when discussing a very serious topic. So we forged ahead, looking for (and finding) some mentors in the lifestyle that have helped us through the rougher patches. If I'd found The Swinger Manual then…well, our entry may not have been as bumpy.
The layout of the book is such that it begins with broad strokes (a chapter entitled "What is Swinging") and then circles in closer and closer to different segments and pieces of the puzzle. What I really liked about this was it allowed for those who had no ideas about what to expect from swinging to be lead in gradually instead of having the "dirty secrets" of the lifestyle shoved into their faces. It moves from what swinging is to who does it, who's it for, and also asks you to analyze why you want to do it, all while reinforcing that it isn't for everybody and shouldn't be used as a band-aid for a hemorrhaging relationship. She goes extensively into the rough stuff, setting boundaries, the inherent risks involved with swinging and doesn't sugar coat it at all, instead just presenting the content to the reader and asking them to draw their own conclusions about it.
There were several moments while reading this book that I thought to myself "I wish she'd gone into…" and nine times out of ten, she had enough tricks up her sleeve to go into whatever it was that I wanted to hear more about very shortly afterward. This speaks to the fact that the book is not only very informative, but well laid out enough to anticipate the questions its audience might have.
My only concern with the book is that it does leave out one or two options that are very real to modern swingers as the world does get more and more accepting. My wife and I are open swingers (or at least partially so). Our friends all know that we are swingers, early on we realized that this was really going to be our lifestyle, not just a hobby, and figured it was something we could and should share with those close to us. We did lose a small group of friends because of it, but ultimately realized that since this is who we are, that since we are happier than we've ever been, if they can't deal with this part of our lives then we're not interested in trying to maintain that relationship. I would've liked to see a chapter about "Coming Out As Swingers," or at least acknowledging that for some of us, that's a viable option. Perhaps that can be in the 2nd edition.
Author Julie is the owner of Swingers Board, a forum that has been helping out swingers for 12 years now, and has utilized this group in the development and assembly of the book. One of the great things about this is that at the end of each section, she adds forum user quotes on that topic, emphasizing that swinging (like so many things sexual) has a lot of points of view. In the end Julie has bravely opened up her swinger knowledge to the harshly critical world of the internet and has sailed through with flying colors. I heartily recommend The Swinger Manual as essential reading for anyone thinking of climbing on the swingset. You can buy it from Amazon, but I'd recommend buying it at SwingerManual.com and getting this lovely lady to sign your copy!
Full Disclosure: We did not purchase this product, it was sent to us specifically for review. Our policy is to, regardless of how we acquired a product, review it fairly and openly. No writer for Life On The Swingset will ever deliberately mislead our readers into believing that a product is good because of anything we received from the company. We are open and honest, and cannot be bought or bribed. If we love a product, we'll tell you, if we don't, BELIEVE us, we'll tell you that too. End disclaimer.