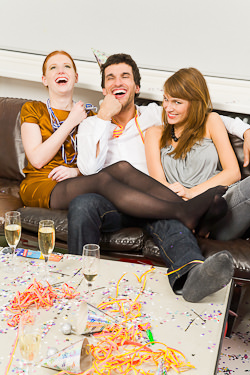 I hosted my second play party last weekend and it was awesome.
Okay, now that the humblebrag is out of the way, here's what made it different and contributed to the awesomeness:
I've been to play parties before. Ones hosted by friends, ones hosted by swinger clubs, ones hosted at dungeons. And while they've been really fun, they can definitely be quite intimidating to new people.
Beforehand you get to see the guest list and maybe even some details about who is coming, depending on what site you are using to RSVP with. Sure, you could reach out to people beforehand, but a majority of people do not do this. So if you're like myself, you end up nervously trying to strike up conversation after standing in the corner chatting with your partner for a bit working up the muster and determining who would most likely welcome your attempt at saying hello.
But there's an impediment even once you do start approaching people, many come to events, especially if they don't know anyone else, with their guard up. And with good reason! I've encountered my fair share of pushy people at parties, determined to make sure they get laid that night and quickly working the crowd to see who else is game. Particularly in a club environment, this works because there is a sense that hey, we're all here because we like to fuck other people, so let's not waste time talking and get to the good stuff.
I, and friends of mine, have been at the other end of the spectrum, spending the night exchanging glances and maybe some small talk with others, but going home without any play. Which can be alright, but less so when you've paid a large amount in the hopes of finding someone good to connect with, possibly for play that night or in the future.
So what did I try differently?
Well, a couple things. The first one was an accident that worked out well.
My first party, I set up the invite on one of the commonly used party invite websites. However, I realized that I did not have the email addresses of a lot of the people I wanted to invite. So, being lazy, I went to Facebook to start sending out messages with a link to the invite. And then I got lazier. Instead of sending out individual messages, I just sent out a blast with the invite to everyone at once.
But something great happened. Some people started making jokes about the invite. And there were logistics questions. Before I knew it, it had turned into a little discussion group. People showed off the toy collection they were cleaning and bringing. Over the couple of weeks leading up to the party, people got a sense of some of the people that would be there.
This most recent party, I started right off the bat a month out with a new Facebook group chat with the invite link. The new party was going to be a mix of return and new folks. I did hear that some were quite nervous about going to their first party, however, I got some really awesome notes from these same people afterwards saying how big of a difference the chat made. Not only was this one started further out, it went even more off the rails in terms of discussion and things getting goofy. I was tempted to try and curb the non-essential chatter, but erred on the side of letting it play out in the hopes that the new folks would feel they have a sense of the group better.
Some people may criticize the use of Facebook. But, it's by far the most widely used chat platform. At a 71% adoption rate by US adults in 2013, there's nothing else that comes close to having all of the people you'd want to invite to a chat on it.
Now, the legitimate down side. This will not work for a large group. Living in a 1 bedroom apartment, I had to keep the guest list small. My first party was 13 people and the second party started with 17 but only 13 ended up making it. This keeps the chat at a manageable level without getting too confusing. Also, everyone knew someone, making adding people to the Facebook chat possible. So this strategy will likely not work for large events and public events.
The second component was, once the party was started, getting everyone talking. The doors opened at 7 and people were required to arrive before 8:30, at which point they would be locked. This gave time for people to socialize, have a drink, and work off a bit of nerves. Then, after 8:30, it was time for group games and introductions. The first party started with a couple rounds of "Never have I ever" and this party started with people listing their "Wildest and Mildest" expectations. Both really got the conversation started, everyone knew everyone else's name, and everyone had in both cases, shared something intimate with these new people.
With both parties, even the new folks who said they were going to just watch ended up naked and playing to varying degrees. I guess I should be glad that my apartment doesn't allow large parties cause this small group dynamic seems to really allow for people to get comfortable through communicating beforehand!