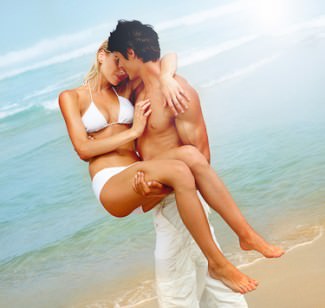 I keep thinking that all of the posts I write for the Swingset need to be sexy and I've just been in such a "feeling" place. And then it occurred to me that a few feelings posts are likely okay. It's not like swingers aren't humans with full compliments of feelings. For that matter the Swingset is popular with all kinds of ethically non-monogamous people. And most important of all, I can only share what I have. I'm a feeling, thinking, sexy person and my guess is you are too.
So here's the deal. I'm loving a little time of domestic bliss with my partners.
Traveler and I are spending more time together, and by necessity much of that involves real-life stuff like running errands or getting things done. He apologized Saturday because we ran around to buy golf clubs and take them to the driving range so he could feel confident golfing with work buddies the next day after a couple of golf-free years and the discovery that his old clubs had rusted.
I laughed when he apologized and explained. That's wonderful. I love feeling like I am helpful and having fun doing mundane things with him. (And going to the driving range was fun besides.)
This is the business of relationships, even multiple relationships. Sure, we date. I hope we never stop. I love candles and music and hot sex and scintillating conversation over a great wine. But I love this domestic stuff too. I like washing dishes with Traveler and Quinky Girl after enjoying a little family meal together. I love being there for Traveler while he picks out golf clubs. I love that he talked with me about his decision to buy the clubs. Relationships do not stay all hearts and flowers. Relationships that last get real. The people in them relate. These little things are what relationships are made of. This is how a person shares their life. It makes me feel like a partner. It makes me feel loved. It makes me so happy that Traveler and I can just love being together and doing anything.
This must've been that kind of weekend, because I saw Cleveland on Sunday and we got a little domestic too, running to Home Depot and Ace Hardware and Target. I bought a vacuum cleaner and some cake pans and we shopped grills together, having fun checking out the features (and wishing for a simple affordable grill).
Of course it wasn't all so domestic. On my date with Traveler I came so hard it ran down his hips and left a Traveler shaped wet spot. I had been unable to stop when he came and tortured him by continuing to writhe, so lost in the way he made me feel. With Cleveland, we'd planned to relax and digest our dinners because we'd eaten too much Mexican food but our chemistry couldn't let us lay for long. We'd gotten swept up as we always do, full bellies or no. It's not like the chemistry has faded with my loving men. I soak up every bit of praise they have about that too…loving the things they said to me afterwards. Lovely.
But I'm in a place of loving this domestic bliss. I've been with Traveler for almost 2 years now and Cleveland for a bit over a year. It makes me happy to see that the passion and love do not appear to be fading, and I'm happy to find such happiness in the everyday with my men. I'll get back to the sexy adventure talk soon, I promise, but I need to go research football rules and how headlight ballasts work. It's just some conversations I've been having with my loves that sparked some interests. I might talk one of my fellas into taking me to the naughty school girl night or the sexy luau at our local swinger spot. You never know. Ahhh…domestic affairs.