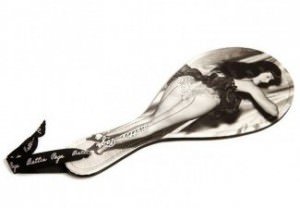 I have dreams about being bent over a chair, black bra and panties on that match my flowing black hair that's draped over one shoulder and cascading to the floor. Silky soft backseam stockings are pulled up tight by a garter belt, and my hands are bound behind me with bright white rope. I dream about a fierce redhead with a corset laced up so tight it looks like she can't breathe or bend in any way, it looks like her spine is made of steel and her hair is made of fire. I dream that she has a nice flat paddle and that she knows how to use it. I have dreamt about this paddle, folks.
 LoveHoney sent me the collector's item "Bettie Page Picture This Spanking Bat" free of charge in exchange for an unbiased review. Upon receiving it, I was amazed, floored really, by the packaging. Aside from the paddle itself, which I will go over shortly, the inside of the box has a velvet cushion to store the paddle on, and a collage of Bettie Page photos printed on the inside of the top of the box. There are elastic straps to keep the paddle secured on the cushion and as an added bonus it comes with a Bettie Page key chain charm and trading card (apparently each item in the collection comes with a different trading card, complete with Bettie picture on one said and stats about her on the other).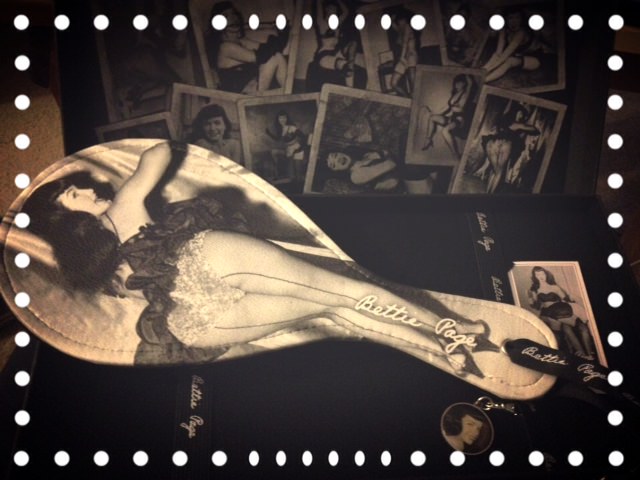 As for the paddle itself, the sleek and simple design is really fitting and adds to it's vintage theme. The paddle features one hard side (that is stunningly gorgeous as it shows off Bettie's luscious derriere) and one quilted (possibly) leather side. The box says this is a leather paddle, but LoveHoney's website says it's faux leather. It smells and feels like real leather, so I guess if you're vegan you have a good chance of breaking your code of ethics by buying this. It has a 4" handle, 7" long spanking paddle surface (so it's almost 11″ long total), and it's 5" wide, perfect for big butts as well as lush small ones like Bettie's.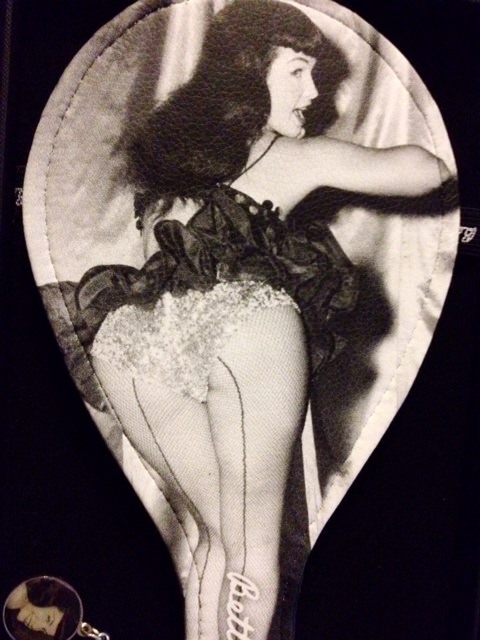 Being that I'm not a fan of heavy impact play, this paddle is ideal for me and my pain limits. It's soft, yet thuddy, and not stingy like some of the other paddles I've reviewed. It's interesting to go from soft, padded side to the firm picture side to play with different sensations. I played around with it with my partner for quite a while before bed and I didn't feel the effects of the spanking the day after, which I was delighted by, but I know plenty of kinksters out there that would be sad by that.
On the American LoveHoney site, this paddle goes for $59.99, which is pretty steep for a little leather paddle, but it is a collector's item and adorable, so I go back and forth. It's expensive for sure, but some Bettie Page fanatics out there would probably pay a lot more for this line because it's just so damn Bettie. I'm glad to have it for sure, and I hope to get more from this line to collect all the lovely Bettie goodies.