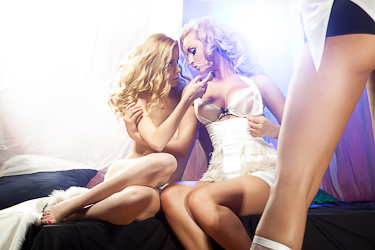 Our first time at one of the local swinger clubs, my husband Flick and I had been pretty nervous and a little deer-in-headlights about the whole experience. Everyone we'd met had been very nice and respectful, but the whole evening had felt pretty surreal. It had culminated with me blowing him in a quiet corner of the upper gallery while he looked down over the dance floor below, which was really awesome. We decided to go again.
This time we were going to meet up with a couple who'd messaged us on facebook and initiated a coffee date. They were newbies as well, and nervous, but it seemed like it would be nice to have others to chat with and dance with in case we were hit with the same nerves we'd had our first time. The wife of that couple and I had a shopping date where we got to know each other a little better, and we picked out sexy outfits to wear to the club. The typical attire of women in the club was very little, but I wasn't quite ready to go straight to lingerie when first arriving for the night, so I found a sexy dress, which was probably far too classy, but I felt like me in it.
We'd discussed with the other couple in advance that we would just watch each other, rather than playing together, which felt like a fun, low-pressure, first step into this Strange New World.
We arrived at the venue first and since we'd been there before, we were more relaxed about chatting with others in the queue, and checking them out. Phones are only allowed in the downstairs entrance area of the club so while we were in the main club, I had to have mine in my purse against my leg so I'd feel the vibe when she texted their arrival. There is a fair amount of hoop-jumping for newbies–signing forms, watching a video, a guided tour–so although they arrived shortly after we did, they didn't get into the club area for a long time after that.
While we waited, we chatted with a very hot couple who'd joined us in our booth. We'd noticed them in the locker area as she was clad only in frilly panties, pasties and a smile, and he was in a gorgeous, embroidered tunic. Turned out they were also fairly new to the lifestyle and I was suddenly a little sad we were meeting up with others because it seemed like things could have gone very well for us with these two.
Our other new friends finally made it to the club area and we all hung out and danced together, often with the hotties from our booth as well. Mr. Hottie had smoked us up with his vapourizer and it was really strong. Although I hadn't had much to drink, I was definitely pretty 'relaxed', and it wasn't until the dry-mouth really kicked in that I realized why. We don't smoke up often, and are kinda lightweights (foreshadowing: this becomes quite relevant later).
After several hours of dancing–which included my sweetie undressing me down to my sexy underthings on the dance floor–I noticed the time and decided if we were going to get funky, we had to get on it because we only had an hour before the last train of the night. We talked to the couple we'd arranged to go with, but she wasn't up for playing yet, so Flick and I headed off on our own to fool around.
The only free space was next to another couple who was happy to have us join them on the lounger. Flick knelt between my legs and proceeded to eat my pussy like a champ. I looked around as I lay back and there were many couples in various states of sexual activity from blowjobs to lap-riding and it was crazy hot. I admired the curve of a beautiful woman's ass as she knelt, blowing her partner, and every now and then I'd catch her eye as she watched me. I was blissed right out.
Ms. Hottie came by at one point and I invited them to join us in the space, but she just kissed me for a few minutes before moving on to another liaison. Husband working his magic between my knees and hot woman kissing me was a pretty great moment, as short as it was.
I lay back again and was revelling in all the delicious sensations when I heard the low rumble of many voices. I looked up to discover that the open area of the room was filled with people. The newbie tour was on and there were about 20 people standing there watching us. My first thought was, 'Oh shit!'. My second was, 'Oh yeaaahh!' and I immersed myself in watching eyes. My inner exhibitionist was jumping for joy and has pretty much burst forth from her bonds since then.
I wanted to return the favour to my sweetie or maybe fuck, but he was so incredibly high that there was a total disconnect between brain and genitals, and he had no interest. I felt slight detachment, though not to the same degree. Everything he did to me felt really good, but there was no progression, and it was like I was watching from a distance.
Lesson learned: don't take drugs from strangers at the sex club. You'd think that wouldn't be something two people in their 40s need to learn, but there ya go.
We continued to fool around a bit, moved up to the gallery area and watched some acrobatic feats of fucking from one very fit couple on the orgy bed, and watched our facebook friends who were in a dark corner playing together (the same dark corner we played in our first time). There were bodies all around us, moans, slapping skin, sighs. It was delightful, so sensual and hedonistic. We knew we'd found a place we could be our full, sexy selves, and as we headed for the train, we were already planning our next visit.