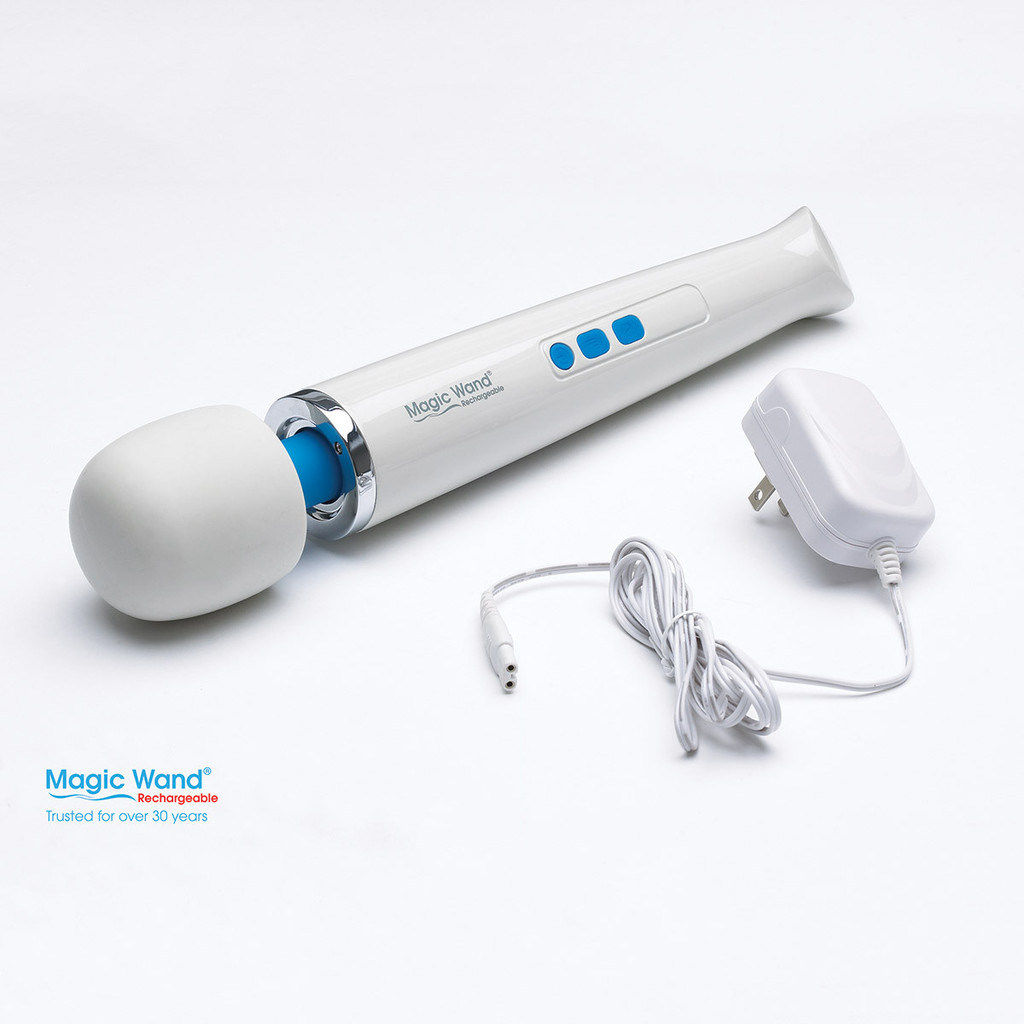 Ollivander couldn't have picked one better, atop his rickety ladder, sliding out a long thin box and handing it down to me.
This is it. This one. This wand.
Back in the day, the original Hitachi Magic Wand was the untouchable pinnacle of vibrators. Strong, reliable, competently brute force. "We'll get that orgasm outta ya!" But that day is long since passed, and the quality and variety of vibrators have never been higher. Couple that with Hitachi deciding that they don't want to be the "Kleenex" of vibrators. They were sick of people reaching for "My Hitachi" to buzz one out. So, after attempting to get out of the "back and shoulder massager" business all together, and getting shoved back in by the legions of fans Michael Corleone style, they rebranded as The Original Magic Wand.
But we all knew. Ollivander knew! These were Hitachis through and through, just with better branding and look.
One of the greatest assets of the Hitachi Magic Wand was its sheer power. When you buzzed that thing on it sorta made you think "If I'm going to get off from a vibrator, I'm going to get off from THIS vibrator." And the reason for that sheer power was its massive power cord. Everything that has come down the pike since has been trying to eliminate that cord, and never have they gotten anywhere near the power.
And then it happened. The cordless edition. The (former) Hitachi Magic Wand was going to unplug!
I was skeptical, of course, because how on earth could it match the power? It's never been done! I announced my skepticism on Twitter, that I would have to see this for myself.
Heidi from Sexy Time Toys helpfully obliged, sending Ophilia and I our very own Magic Wand Rechargeable. (Without the Hitachi in the name it all feels rather…generic, doesn't it?)
First, the entire wand seems sleeker, less a product of a bygone make believe shoulder massager era like its forebears. The edges are better contoured. The curves are more ergonomic, and the entire head and neck is covered in nice smooth silicone. Finally a Hitachi Magic Wand I can feel more comfortable sharing.
Thankfully the wand can be used both with AND without its cord, allowing those of us who forget to charge these things before dates a bit of leeway, and the cord is LONG just like its ancestor. (A case where size DOES matter.)
New to this edition is a variations setting. So now your Magic Wand can frustrate you by changing up its rhythms just as you're finally about to cum. Just me? In fairness, though, the variation setting is really pretty great, and allows people who don't need just continuous and consistent stimulation to enjoy themselves thoroughly in a way that other vibrators have been doing for years.
The biggest revolution may cause you to say "Duh!" as it comes from upgrading the old Magic Wand's two speeds (strong and PULVERIZE) to four. Finally there's a bit more variant. People who've always felt the Magic Wand was just too strong now have a new lower setting that comes in below the old Wand's "low." And those who mysteriously didn't feel that the Original was stonge enough? Behold the Glory and All Hail Power Level Four! As it was, is now, and ever shall be.
Holy shit this setting is strong! I don't know how it was achieved, but the people who are definitely not Hitachi anymore (no sirree) managed to make a cordless version of the Magic Wand even stronger than the original. That was my number one fear, would we be sacrificing power for movement. No. No. No.
I don't really get off from vibration personally, but as Ophilia and I were playing with the new Wand, we wanted to see what would happen, and pressed the head firmly against my frenulum. Within minutes I was orgasming with disbelief written on my face.
Stunner.
So, should you immediately consign your old friend to the waste bin of history and grab this newer sleeker model? (While contemplating life's existential dread that accompanies being replaced, I trust.) Well, no. Keep the old one, grab the new one.
Should I get this instead of the regular Magic Wand? Probably. The cordless version costs twice as much, and unlike the original, we don't know what long term prospects look like for this one. So…Food for thought.
I do highly recommend, the Rechargeable Magic Wand, and ask you to pick it up at Sexy Time Toys, since they were so lovely to send me one in the first place.