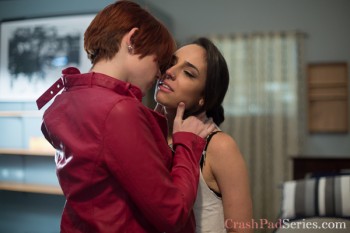 Confident in her red leather jacket,
Lily Cade
takes two steps then slides a hand and pulls 
Amanda

 Whip
in for a mouth-watering kiss to start
Episode 161
at
CrashPadSeries.com
. Move over Johnny Cage (from Mortal Kombat) Lily Cade is here for the real deal and quickly picks up to get 
Amanda
 Whip right onto the bed. (One of my biggest turn-ons is whenever my honey picks me up and takes me to bed, hehe) Soon 
Amanda
 sits up while kissing Lily and strips off the leather jacket, tank, and bra to move to kissing and suckling beautiful breasts.
But Lily soon pushes 
Amanda
 back down to push up her shirt to enjoy her pierced nipples breathy before heading south to business. In a quick frenzy, Lily strips off 
Amanda
's pants, socks, and lastly panties because who needs bands in a bunch anyways. Lily taps into play on 
Amanda
's tattoos of Fuck & Kill. (No these are not key commands in Mortal Kombat online, now back to the porno people.)
Lily's tongue begins to warm up 
Amanda
's clit with slow licks that lead to a few fingers being slipped in. The pace soon quickens along with 
Amanda
's moans as Lily sits up continues working while sucking on a few of 
Amanda
's fingers. Soon enough, 
Amanda
's drenched vaginal walls open up so that Lily's full hand is pumping in and out. Soon the fisting gets fast with 
Amanda
 begging Lily to "spit on my pussy" and "fuck me!" "Open for me," Lily whispers as she slaps and continues to fist fuck 
Amanda
 into a shouting orgasm. Wetting 
Amanda
's appetite as Lily lovingly slides a hand up 
Amanda
's back to get back on top of her. However, the soft moment of licking and touching must end to go back south and begin fisting Lily. Taking a short pause to gently ring the doorbell, then Lily sets up a swifter fisting pace for 
Amanda
's gleeful shouting into another orgasm.
Not done yet, 
Amanda
 sits up to help Lily with her jeans off but ends up around her bend and knee. 
Amanda
 leans in to lick and begins some butt play of her own. Soon Lily can't take it and gets completely naked and pulls 
Amanda
 on top for some deep kissing. "I like the being naked part!" Anyone watching this appreciates as well :). Dueling tongues isn't for long when 
Amanda
's tongue transcends to Lily's clit and vagina. As following Lily's excited moans, 
Amanda
 soon slips in a few fingers then her fist. The fisting leads to Lily's first shouting and bed post gripping orgasm.
However not to be outdone, soon Lily gets 
Amanda
 to use her flexibility to lean back as her legs are lifted to be on Lily's shoulders and devilish mouth. A few moments of licking then becomes Lily pulling 
Amanda 
back down but legs still over her head. Soon Lily slips and moves two fingers inside 
Amanda
 which continues as they both sprawl back fully onto the bed. Working to the next orgasm, Lily slips her head down to add licking 
Amanda
's clit to ass fingering. Soon this is not enough and 
Amanda
 is sitting on Lily's fast moving tongue and lips. Leaning back 
Amanda 
generously starts fingering Lily to match pace.
Moans lead to 
Amanda
 having Lily lie back down so she can lead her moans to orgasm with continued slippery fingering and tonguing her clit. After Lily orgasms, quickly kisses and sits behind with slight of hand to give 
Amanda
 another clit slapping orgasm. (This snapped my attention even more but don't just slap anyone's clit.) A few breaths, soft looks and kissing. A quiet moment follows until 
Amanda
's fingers slip back down and inside Lily. Excited cries follow but soon Lily has 
Amanda
 on the bed again to retrieve a pastel blue dildo and leather harness. Not wasting any time, Lily slips her dildo into 
Amanda
 with an increased hip swinging pace. Soon the vagina is not enough with Lily flipping over 
Amanda
 to insert the dildo up her ass. 
Amanda
 moans louder and is off the bed to back up more into the dildo in pace with Lily. 
Amanda
's legs are in the air again for a few moments but soon back down on earth as Lily continues to spread her legs and fuck her.
Soon
Amanda
 leans up to ride Lily's dildo to a deafening pace to a shouting orgasm again. (Damn girls! I'd be down for the count after that)
Taking a few smiling breathes then Lily heads back down tonguing 
Amanda
. Her tongue is insatiable as she gets 
Amanda
 to come shortly after. Some deep breaths and soon 
Amanda
 has Lily spread open for her fingers and tongue on her clit again! Damn this is definitely an orgasm chess match, ladies and gentlemen. Quite simply, oh fuck is right for this tantalizing duo as the screen darkens and the credits roll.