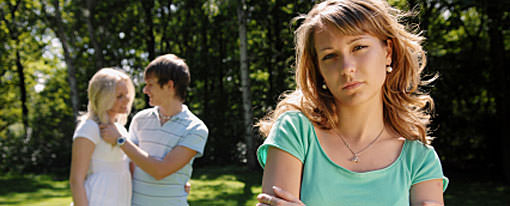 "Do you want to talk about rules?" Jack asks.
"Oh, I suppose," I reply, though in reality I am tired and a little grumpy and entering the beginning stages of PMS, so it isn't exactly the ideal time to have this discussion.
"So.  What rules do you want to have?" he asks.
I shrug.  "I dunno."  I'm more of a let's-cross-that-bridge-when-we-come-to-it person; he's the one who wants to talk everything through beforehand.  In this case, his approach is probably a good one to take, but I don't think I'm the appropriate person to be leading the conversation.
The first rule is obvious, and we've already talked about it prior to this:  Condoms are required.  Always.  No exceptions.
"Full swap?"
"Yeah."  I've been saying for years that I don't care who he sleeps with so long as he tells me about it beforehand, so this one seems like a no-brainer.  I don't think I have any hangups about plain ol' sex with other people.
"Same room or separate rooms?"
"Mmm, I dunno.  Whatever."
"I think we should start in the same room.  I mean, we're doing this as a couple, right?"
"Yeah, ok."  I know that my answers are not very satisfactory, but I'm not sure that I have any satisfactory ones to give.  It seems to me that these are difficult decisions to make when you're only speaking in the abstract.
"I mean, I want to see you and stuff.  And I think we should start out with same room."
"That's fine.  That's reasonable."  I'd like separate rooms to be an option later, I think, but I understand the impulse to want to start in the same room.  I'm not sure I share it, but then I've never been a voyeur.  He's very visual; I'm much less so.  He likes to watch porn; I mostly read erotica instead.  He wants to look at me and he wants me to look back at him.  Me, I like to close my eyes and focus on the physical sensations.
We agree on the same room for now.  Rules can always be altered and adjusted later, as we get more experienced and find out what does and doesn't work for us.
"What about the reclamation sex thing?  Where we come back together as a couple at the end of the evening."
"Seems like a decent idea," I say.  We are in this together.  He's the one I want to go home with at the end of the night, after all.
"Is there anything that you're uncomfortable with?" he asks me.
I shrug.  We've already discussed my discomfort with him engaging in guy-on-guy.  I'm also pretty sure I don't want to jump right into girl-on-girl.  I've never been with a woman.  I've been attracted to specific women, but I go back and forth on how strongly interested I am in women in general.  We decide to start slow on the same-gender fronts.  If we're easing into this thing, it seems like we ought to start with the gender dynamics we're already comfortable with.
He discovers that he feels strangely uncomfortable with the thought of me swallowing someone else's cum.  He can't seem to articulate why it makes him uncomfortable, but he doesn't think we need to make a rule about not doing it.
This leads into him asking me a series of questions about things that make me uncomfortable.  "Would you suck a dick with me?" he asks.  The thought weirds me the hell out, perhaps more than any other scenario he proposes.  I'm definitely not ready to suck a dick with my husband.  Maybe someday in the future.  We're going to have to work up to that.
Our basic rules are roughly hammered out, then.  We're up for full swap, same-room, girl-guy action.  After we've had our fun with other people, we will reconnect with each other.  And all rules are subject to change in the future, except for these two fundamentals:  Condoms always.  And communication.  If anyone is uncomfortable with something that happens, if anyone has an issue with anything, we need to talk about it.