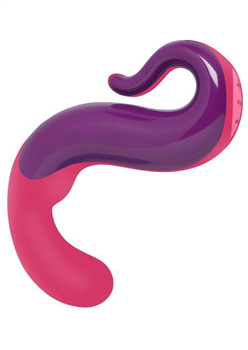 I love curves! They make everything sexier and so much more exciting. Fun Factory's DeLight is the curviest and most sensuously shaped G-spot vibe I have seen so far. The soft curved body and velvet touch body were screaming out to me. I knew that this was something I needed to try out for myself and see if its every curve could fit my every curve.
The seductive "S" shaped body of Fun Factory's DeLight to me looks like a swan. It has a "Royal Curl" that looks like the swan head and the body is the swan neck. I put my pointer finger in the curl and my thumb on the top and grasped the vibe in my hand. It felt very comfortable in my hand, like the vibe was meant to be held there. I pressed the + button and turned the vibe on low and with the help of some water-based lube I glided the DeLight up towards my G-spot.
The vibration was soft and gentle and was warming my inner body. The sweeping shaped vibe conformed to my every curve, like I thought it would. It just melted into me.  The delicate silicone head pressed ever so peacfully yet forcefully against my G-spot. I didn't need much pressure, but was enjoying how incredibly hot it was making me. So I pressed the easily locatable red light up control and pressed the + up a few levels and found my perfect setting.
I shoved the vibrator hard and fast into me and I was getting wetter every second. I didn't have to put much force behind it to get me to cum. Each movement was very tender and compassionate. It was a feeling I've never really felt before from a G-spot vibe. I loved it! Before I knew I had cum multiple times and had a lake full of juices under me. I was happy.
There was one part of the vibe that I didn't notice till after I was done. There was an extra bump located on the inside bottom curve that is designed to stimulate your clitoris. Not once did I notice it stimulating or massaging my clit. There wasn't much of a vibration or anything. I think this was almost like an after thought to put this part on. If not it definitely needs to be more prominant and more power. It was totally unnoticeable to me. I wish it did something because it is an awesome idea to have something that plays with your clit while using the vibe, but unfortunately it didn't.
As much as I loved how much the DeLight vibe conformed to every curve of my body, it was a little difficult to remove. It felt like it suction cupped itself inside of me. I had to give it a pretty good pull to get it out.  It didn't hurt or anything, it just was a surprise that something so "curv-ilicious" was hard to get out. Once it was out it was easy to put in again, but still trying to get it out again was still a bit of a challenge.
Something that I did find very cool about Fun Factory's DeLight is that it is a Click 'N' Charge Vibe. That means that it's a part of their line of vibrators that uses a FUN Magnetic Plug to charge. You just place the 2 magnetic balls on the charger to the 2 small magnetic discs on the vibe to charge and plug into the outlet. It's super easy. Plus this charger works with all their other Click 'N" Charge vibrators.
Clean up was very easy too. Just need some warm water and mild soap and she is all set to go for next playtime. The DeLight is splashproof, but not water proof which I was a little disappointed about. I would really love to try the DeLight out in the tub. I know that this is were I can really test my sex toys out and see how they really hold up.  Sadly, I was not able to do this with the DeLight. I would love to try it again if Fun Factory comes out with one that is submergable. That would be heaven!
Fun Fun Factory's DeLight was truly a luxurious G-spot vibe. It's smooth swan like curves and velvetty soft body was exactly what I was craving. Despite a couple little flaws, I was very happy with my time with the DeLight. It was an awesome wet time!
Full Disclosure: We did not purchase this product, it was sent to us specifically for review. Our policy is to, regardless of how we acquired a product, review it fairly and openly. No writer for Life On The Swingset will ever deliberately mislead our readers into believing that a product is good because of anything we received from the company. We are open and honest, and cannot be bought or bribed. If we love a product, we'll tell you, if we don't, BELIEVE us, we'll tell you that too. End disclaimer.