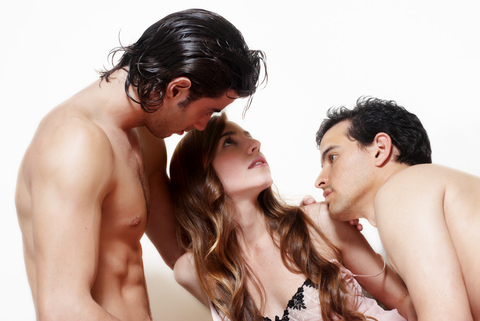 As we were sitting waiting for Mr. Hardcore to return from the hotel, Mrs. Hardcore asked us what our craziest swinger moment ever was. Mr. Doubleplay and I felt a little silly. I thought back on our years of swinging. Craziest? Nothing crazy according to Mr and Mrs. Hardcore's standards I'm sure. I felt like the kindergartener talking to fifth graders on the playground. Totally a different league!
Well there were stupid times—unprotected sex with a unicorn (a single female swinger), getting thrown out of an off-premise bar because we were fucking, having the police 'tap tap tap' on our window while we were having sex in our steamed up car.
There were the fun and silly times like sitting on the beach at Desire and waving to the boats by lifting our leg up and wide and shaking it around.
There were great voyeur-sh times like group play with three hard swap couples. We were the only couple not partaking in THAT part of the evening. They were having loads of fun. And so were we. I came almost instantly when a gal starting licking me while a guy behind her was fucking her in a way that made her moan in my pussy. That was very. Very. Hot.
Hot tub moments at our local swingers club always rank up high on our favorite list as well. Like the time we were soaking the big hot tub with another soft swap couple. I was leaning back on Mr. Double play with my legs spread wide and a very hot guy was doing a very nice job on my clit. The moment went over the top hot when I opened my eyes and saw his girl was looking over his shoulder admiring what he was doing to me.
Then, an obvious one would be watching Mr. Doubleplay's first time fucking a unicorn while I sat on her face. Seeing the look on his face, hearing her moans. Instant orgasm.
There are many, many memories like those. Which I'll share in future blogs. None of which would have been interesting to Ms. Hardcore. Her stories included being spanked until blood vessels broke in her ass, being tied down, whipping another guy into submission, rough sex of all kinds. She also shared a fantasy of being gang raped. And another fantasy of being tied down, injected with something that would make her itchy all over, and then fucked while also being itched, scratched by the others there. Mr. Doubleplay's face was priceless as she was describing that one. We were both freaked out, Mr. Doubleplay and I.
That didn't seem hot to me but rather like hell.