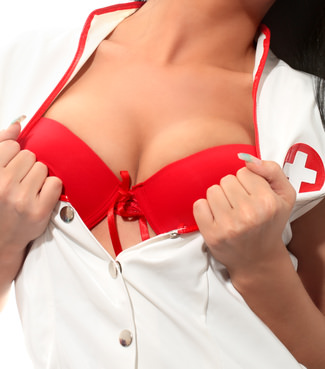 I took another trip recently, but this time Mr. Doubleplay stayed home with the kids. While most of my days were filled with business meetings, presentations, and networking dinners, Mr. Doubleplay arranged a special date for me. We had arranged to meet a couple during our last trip to the Big Easy, but a cancelled flight dashed our plans.
This time, the husband of the couple was out of town, but he and Mr. Doubleplay arranged a date between his wife—a Classy-Naughty Nurse—and I. Clearly the men were not able to attend in person but that was not going to prevent them from having the thrill of making sure their wives had a hot time that night.
It is a bit ironic perhaps that I have recently written a blog post stressing the motto in my relationship from here on out would be "We play as a team." I guess our rules really are "We play as a team unless both of us really want one of us to play solo." After several conversations, Mr. D assured me that he was fine with idea of me playing with another woman. Very fine, in fact—provided that I send texts and photos throughout the evening. There were a few days when it might be the case that the Naughty Nurse's husband might be home after all—that would have made for a more complicated set of rules. Especially since he is hot, hot, hot and it would have been hard for me to follow "girl only" rules on such an occasion. So perhaps it was just as well that he was away during my first solo date.
I met the Classy-Naughty Nurse at a swank bar off of Canal Street. Over fancy cocktails, we had some fascinating conversation about careers, religion, and oh yeah, lifestyle experiences. After wandering about Bourbon Street and finding it too crowded that evening and just too college frat scene, we made our way to Colette's, the classy swing club in New Orleans. I've only been to Colette's, but I hear the other swing club is far from classy, but I leave it to others who have actually been there to give reviews.
I still had my membership card to Colette's from our previous trip to NOLA. The Classy-Naughty Nurse was a regular. We got in free as "single ladies"! She said we should be fine but a few men might try to approach assuming that she had a "Hall Pass" that night. Her husband travels often on business such that they have a deal where on occasion each gets a night to go and play in the Lifestyle solo when it has been too long since their last adventures and they don't foresee a time in the future when they can play together. Of course, it's easier for the Classy-Naughty Nurse, as her husband just turns into one of those single guys.
We stuck together at the club, commenting on the beautiful women there that evening. We were not dressed appropriately for lingerie night. Although I felt quite sexy leaving my hotel and walking through the lobby of business colleagues, I had way too many clothes on for Colette's and the hot time that people were having. I was tempted to shed some, but we were both self-conscious of being single ladies in a room where we were clearly causing some conversation. I came to find out that many couples who did not know my Classy-Naughty Nurse thought we were lesbians and not interested in men at all because we were not our normal flirty selves. We did chat with some of her friends. My Classy-Naughty Nurse began each conversation with "My husband knows I'm here! This is my friend!"
Enjoying some champagne passed around due to the club's 10th anniversary, I shared my rules for the evening and traded some lifestyle experiences. We shared similar experiences and comfort levels in the lifestyle and found a natural ease with one another. After some time, she asked me if I wanted to go upstairs and "look around"—a very classy and smooth way to suggest that maybe we should go get it on!
We headed upstairs to the playrooms but all the private rooms were full. Both being conscious again that we were easy prey to couple and men who might want to jump in on our girl-girl fun, we chatted and waited for a room to become available while listening to moans, slaps and groans leaking out from behind curtains and closed doors.
Finally, a private room with a lock became available. It was freezing cold, but it didn't stop us from quickly disrobing and warming each other up with hot kisses and caresses. I took the first turn, gently easing myself down my Classy-Naughty Nurse's body. She started moaning and bucking her hips almost immediately. In a matter of minutes, she came hard and ended with a soft sigh. Some of my easiest work yet. I admit I was looking forward to having to work a bit harder for that response. She explained she was aroused all evening and especially since she had not had a chance to play with anyone for several months due to vanilla dramas in her family.
Next it was my turn. It took a lot longer for me to warm up than she. At one point I didn't think I was going to orgasm at all and, true confession, I decided that with just the two of us, the polite thing to do would be to fake it. I am not a faker usually but it seemed the right thing to do. Lucky me, my loud moans were arousing to me and also caused my Classy-Naughty Nurse to quicken her pace and pressure with her tongue. I'm not sure how it happened, but she broke some sort of orgasm seal, because I kept coming in waves for over 5 minutes. I could have kept going but I was worried that she might be getting tired! It was incredibly hot. One of the most amazing orgasms I have ever had. Maybe I need to "fake" it more often!
Before we got dressed, despite the cold temperature, we took some naughty pictures of each other. I sent pictures of her to my husband and she sent pictures of me to her husband. By then it was 3 in the morning back home but Mr. Doubleplay didn't seem to mind getting awoken for such images.
We ended the evening with promises of all four of us getting together next time. If pictures don't lie, her husband is extremely sexy. I can't wait to have more time with my Classy-Naughty Nurse and her husband too!