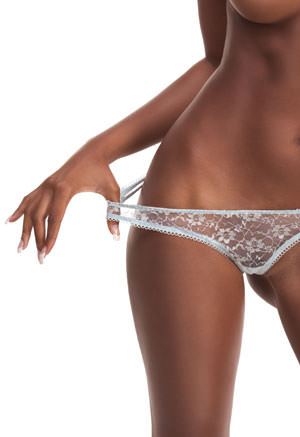 "BBC wanted."
"No BBCs."
"We prefer to play with those of our same race."
"No Chocolate, please."
Seeing phrases like this has become par for the course in our Lifestyle journey. However, as an African-American couple, it never fails to strike a small chord with us. Sometimes we laugh it off, while other times we wonder why it is necessary for others to state a racial preference so overtly as part of their profiles. Now, we understand, it is the Lifestyle, and people should feel comfortable stating their likes, dislikes, wants, and desires. But should racial preferences be included? We didn't feel the need to say that we preferred exotic looking brunettes or that we preferred not to play with people with kids, although I guess we'd thought about both of those things from time to time. I guess because while both of those things may be true to an extent, they weren't necessarily deal breakers for us. We'd certainly be happy to play with a blonde with five kids if the chemistry, timing, and vibe were right. Or were we being overly sensitive about the whole thing? Should this even be a topic of discussion, or should we just deal with it amongst ourselves?
As educated, upwardly mobile, physically fit African-Americans, we'd both dealt with racial insensitivity throughout our lives. As the Lifestyle is generally just a microcosm of society in general, we weren't necessarily surprised when those same types of experiences carried over to our Lifestyle lives as well. Don't get me wrong, most of the comments we'd heard were relatively innocuous, not stated with any malice, and often spoken with the intent to pay a compliment. We'd heard it all, from the surprised "wow, you are so articulate for a Black person!" to "You guys are just different from other Black people" to "You're the hottest Black woman I've ever met". Somehow it just seemed to carry more weight coming from someone in the Lifestyle. I don't know whether that was because the thought was that Lifestyle people should be more open and accepting people, or because we were usually either very scantily clad (or not clad at all) when we heard these comments. Maybe we just felt more vulnerable. We wondered why race ever had to play a part in things at all, though. Couldn't I just be a "hot woman" and not a "hot Black woman"? Did I not deserve to be categorized with the other hot girls at the party?
Besides that, we'd often notice that we were usually one of very few African-American couples at the various Lifestyle events (although there were more interracial couples). Many times, we'd be the only African American couple there, and get that feeling of being on display, like animals at a zoo. Again, it was something we'd gotten used to, mainly because of the demographics of our city and the Lifestyle crowd here, but we'd sometimes joke that we were the "token Blacks" again as we drove home from a party.
All of this to say, as much as we hate to admit it or confront it, just like in other aspects of our lives, race does matter in the Lifestyle too. I think that we should treat it just as we do other aspects of the Lifestyle; respectfully address it, communicate about it, ask questions. However, I do stand fast in my belief that no one should throw a blanket exclusion over others, even potential play partners, based on race. You could be missing out on something amazing, something that you might not have initially considered sexy at the outset. And hey, I'd rather be called a "hot Black girl," than not considered hot at all.